Winner of numerous international computer Go tournaments.
The result of twenty years research and development.
Five levels of play from beginner to expert.
Handicap option.
Board sizes 9x9, 13x13 and 19x19.
Load and Save options.
Step back/forwards to any point in the game.
Works on Windows 95/98/2000/NT/XP or Linux (with Wine)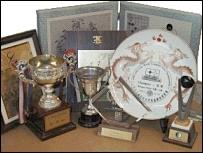 Just some of the trophies won by Go++

Recent tournament record:
Computer Olympiad 2002 Maastricht, Holland - winner
21st Century Cup 2001 York, USA - winner
CGF 1999 Tsukuba, Japan - winner
Ing 1999 Shanghai, China - winner
Internet Computer Go Ladder - first place

Top 3 placing in every tournament entered since 1996


Wins greater than 50% of games against all known commercial rivals
Independently ranked #1 Go software in rec.games.go F.A.Q.