HOW TO USE THIS WEB SITE: This web site is divided into 21 main sites as represented by the twenty one yellow buttons on the top of each page. The user can surf from one main site to another using these bottons. Within each main site use the vertical navigation bar on the left hand side to navigate from one page to another. Use the search command on the upper left to find what you are looking for.


Join these leading companies today!

China Hotels & China Tours China Tours Tailor China Tours & China travel China Tours, China Flights, Hotel in China, Beijing Tours Kiseido,Yutopian.net
Your Advertisement here Mahjong Solitaire China Culture Tour, Private China Tours, China City Tours
China Tours, China Hotels, China Flights and YangtzeCruise, Beijing Tours & Tour of Beijing Beijing Xian Tour, Beijing Shanghai Tour & Beijing Tours from Tianjin Port

For advertising information, please click here

Please Visit Our Sponsor



Gift Shop




Ernest Wong, DDS, MS (San Diego, California)

For advanced tooth problems and cosmetic procedures you will want to browse through the best dentists in San Diego.

A Simple Four-Step Process to Reverse Gum Disease / Gingivitis Treatment (Remedy) Which Prevents (Heals, Cures, Fights, and Reverses) Gum Diseases (Gingivitis, Periodontal Diseases)

for advertisement, please Contact Us

Gum disease, hair loss, warts and overweight must be the most common issues faced by Americans.

This article discusses the causes, the symptoms (various stages from early to severe or advanced), and some misconceptions of gum diseases (gingivitis, periodontal disease / pyrea). It also describes a proven method in treating (preventing, fighting, healing, curing and reversing) the disease, without any surgery, medicine (medication and antibiotics), and it's almost free and pain-less.

Six months (before I wrote this article) ago my dentist's diagnosis was that I needed gum surgery. I had deep pockets between my teeth and my gums. My gum-lines have been receding, bleeding, and my teeth are loose. Bacteria was cultivating in the pockets making it almost impossible to kill the bacteria, and gum surgery appeared to be the only cure (or remedy).

Based on my home treatment (remedy), I am happy to report that I no longer have gum disease (gingivitis, periodontal disease / pyrea).My dentist told me that my gums are healthy and tight.This method (or treatment) has been verified to prevent (fighting curing, healing, and reversing) gum disease (gingivitis, periodontal disease), and it does not require any surgery, medicine (including herb or herbal medication) or antibiotics, no harmful chemicals (like peroxide), and best of all it is almost free and pain-less.

First of all, let's look at what is the cause of gum diseases (gingivitis, periodontal diseases). Most gum diseases (gingivitis, periodontal diseases / pyrea) are caused by poor oral hygiene or gum / tooth health, although smoking, pregnancy and diabetes can be causes (please see below). The build-up of tartar results in the cultivation of bacteria which causes the gum line to recede. In severe or advanced cases, the bone structures which hold the teeth is place will give way, resulting in the losing the tooth (or teeth).

The following lists the various stages of gum disease (gingivitis, periodontal disease).
build-up of tartar
receding gum line
deep pockets between the gums and teeth (necrotizing, advanced or severe stages)
losing bone tissue or structure under the gums (necrotizing, advanced or severe stages)
loose tooth (or teeth)
losing the tooth (or teeth)

Secondly, let's look at the symptoms (and signs) of gum disease (gingivitis, periodontal disease).
receding gum line
infection and / or bleeding of the gum
bad breath
loose tooth (loose teeth)
pain in biting
eventually losing the tooth (losing the teeth)



The Four Step Treatment of Gum Disease (gingivitis, periodontal disease). Please note that the sequence of the following steps is very important.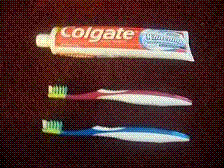 Step 1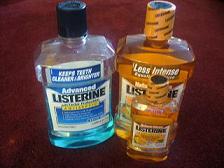 Step 2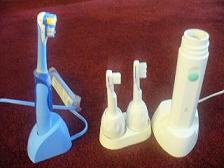 Step 3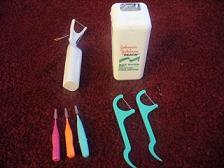 Step 4
Step 1-Brush your teeth as you would normally do, using the tooth paste of your choice. For tooth brush, we recommend oral-b with angled bristles and cross-action as shown in the photos (pictures, pics)
Step 2-Rinse your mouth with a mouth wash of your choice (with active ingredients: eucalpto, menthol, methyl salicylate, and thymol). Listerine or Scope is fine, see photos (pictures, pics). Hold the mouth wash in your mouth for 60 seconds. Do not swallow the mouth wash.
Step 3-Spit out the mouthy wash. Do NOT rinse your mouth yet. Instead use a sonic tooth brush or electric brush (preferably oral-b) to brush your teeth for two minutes. Thirty seconds for left quadrant on the outside (with upper and lower jaws closed). Thirty seconds for the right guardant on the outside (with upper and lower jaws closed).  Thirty seconds on the inside of the lower jaw. Thirty seconds on the inside of the upper jaw.
Step 4-Do NOT rinse with water yet. Floss the teeth with dental floss or the tiny brush as shown in the photos (pictures, pics). Rinse your mouth thoroughly with water.
The above step should be repeated at least two times on a daily basis (three times preferable). You should see an improvement in less than six months.
The reason why this method works is simple- The main process which helps to reverse gum disease is the action of the active ingredients in the mouth wash. Thus it is important to get these ingredients deep inside the pockets between the gum and the teeth. Unfortunately, normal brushing routine stops at Step 2, which is not sufficient. Step 1 prepares the gumline for the mouth wash. Step 2 in holding the mouthwash in the oral cavity for one minute helps to saturate the gum line with the active ingredients. In Step 3 the application of a sonic brust helps to propergate the active ingredients deep inside the pocket to reverse gingivitis. Since Step 3 only applies to the outside and inside surfaces of the gum line, one needs Step 4 to clean the gum lines in-between teeth.
Some misconceptions about gum disease (gingivitis, periodontal disease):
Gum diseases are contagious- While the bacteria may be contagious, periodontal diseases (gingivitis, gum diseases) are not. As long as one has healthy gums and teeth, there won't be any places for the bacteria to cultivate
Gum diseases won't lead to heart diseases- Gingivitis (gum disease, periodontal disease) results in bleeding gums. The resulted platelets can be cumulated in arteries leading to heart diseases.
Smoking won't cause gum diseases- Smoking and tobacco usage cause a host of health related issues and has been shown to be a major contributor to gum disease.
Pregnancy won't cause gum diseases- Pregnancy and the hormonal changes that accompany it can lead to an increased susceptibility to gum disease.
Diabetes won't cause gum diseases- Diabetes causes fluctuations and alterations in blood sugar. The perpetual changes lead to a higher risk for developing periodontal disease.
Dogs (canines) and cats (felines) won't get gum diseases- This is not true. Dogs (canines) and cats (felines) can get gum disease.
Further Information on Periodontal Diseases:
National Institutes of Health National Institute of Dental and Craniofacial Research (NIDCR) Public Information and Liaison Branch 45 Center Drive MSC 6400 Bethesda, MD
Centers for Disease Control and Prevention National Center for Chronic Disease Prevention and Health Promotion Division of Oral Health, MS F-10 4770 Buford Highway, NE Atlanta, GA 30341 1-888-232-2306
Disclaimer: The treatment described on this page is not meant to replace your regular dental checkups. Abnormal gum bleeding can be an indication of serious underlying diseases like cancer. One should always have a certified dentist check the oral cavity carefully and ask whether the approach described on this page is suitable for you. Yutopian Enterprises is not associated with any of the organizations mentioned on this web page nor are we responsible or liable for the consequences of using these services
---
Bookmark This Page
Send This Page To A Friend

Place Your Ad Here For As Little As $1 Per Day
Home | Arts | Books | Cooking | Entertainment | Games | Genealogy | Gifts | Health | History | Kids | Literatures | Music | News | Religion | Society | Software | Sports | Tea | Travel | Weightloss | Zodiac
About Us | Add URL | Advertise with Us | Auction | Awards | Contact Us | Discussion Forum | Links | Search This Site | Send This Page | Shop | Top Ten Sites
Copyright 2000 Yutopian, All Rights Reserved
.
.
.
.
.
.
.
.
.
.
.
.
.
.
.
.
.
.
.
.
.
.
.
.
.
.
.
.
.
.
.
.
.
.
.
.